Information notice relating to Dinosaur Egg toy
May 6, 2020
It has been reported that there is a risk that the head of this dinosaur toy can detach and pose a choking hazard. This toy also has the capability of expansion when exposed to liquid. This poses a further risk of choking if swallowed due to the toy expanding in excess of the maximum permitted dimensions.
The above product was sold online through Amazon.
What to do:
If you believe you have purchased any of the affected Dinosaur Egg toys, discontinue the use of the product immediately and dispose of the product appropriately.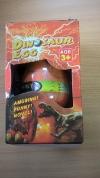 Return to Product Recalls
Haven't found what you're looking for?