IKEA Safety Alert of SUNDVIK changing table/chest of drawers
May 2, 2019
IKEA is carrying out a Safety Alert of SUNDVIK changing table/chest of drawers after reports of were the foldable part of the SUNDVIK changing/table drawers has come loose and children have fallen off the changing table.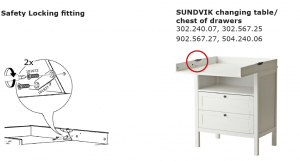 What to do:
IKEA customers must not use the product if the safety locking provided are not in place correctly or are missing.
IKEA will provide additional safety locking kits where they have been lost or misplaced free of charge to all customers.
If you have any further queries about this safety alert, you can contact IKEA's Customer Service team on 01 541 3302.
Haven't found what you're looking for?