IKEA recalls PAX AURLAND wardrobe mirror door
November 7, 2011
IKEA is carrying out a voluntary recall of the PAX wardrobe with AURLAND mirror door, article number 101-604-5.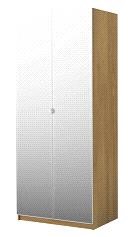 This is due to a risk that the large mirror can detach and fall, creating sharp shards when it breaks and posing a danger to consumers.
Only sliding mirror doors from supplier #12650 are affected with the production weeks 1039 – 1048.
The product name PAX AURLAND, the production week and supplier number are printed on the rear of the mirror door, lower edge.
What to do:

Customers with an affected PAX wardrobe with Aurland mirror door from supplier #12650 should contact IKEA Customer Service on 1890 876 707 to arrange to receive a replacement mirror door free of charge.
Return to Product Recalls
Haven't found what you're looking for?