IKEA recalls ODGER Swivel Chair
December 21, 2022
IKEA recalls ODGER Swivel Chair.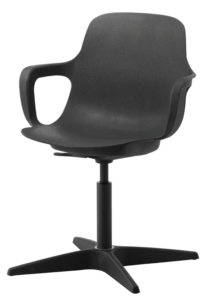 The risk associated with the product is that of falling and injury. Some of these chairs have been found to break at the star base of the leg, posing a risk of falling and injury to the consumer.
The brand is ODGER. The Swivel chair is anthracite colour with date stamps before and including 2221.  The date stamp is located underneath the seat, moulded into the material of the chair.
The affected product was available for purchase from October 2019 to December 2022.There are approximately 611 affected products in the Republic of Ireland.
What to do:
Customers should stop using the product immediately and return it to any IKEA store for a full refund. Proof of purchase is not required.
If customers have any further queries in relation to this recall, please visit https://www.ikea.com/ie/en/customer-service/product-support/recalls/odger-swivel-chair-anthracite-colour-pub5b281ef0 or call IKEA Customer Services on 01 5413302.
Return to Product Recalls
Haven't found what you're looking for?