IKEA recalls MYSINGSÖ beach chair
January 24, 2017
IKEA is carrying out a voluntary recall of the MYSINGSÖ beach chair and is recommending customers who purchased the chair before February 2017 to bring in back to any IKEA store for a full refund.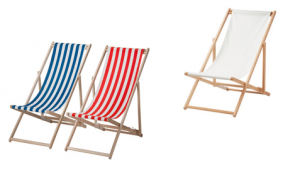 After washing the fabric seat it is possible to re-assemble the chair incorrectly leading to risks of falls or finger entrapments.
There were 1,243 affected chairs placed on the Irish market.
What to do:
Proof of purchase (receipt) is not required for a full refund. For more information, please visit www.ikea.com/ie/en/ or contact IKEA Customer Services (01) 541 3300.
Return to Product Recalls
Haven't found what you're looking for?