Ikea recalls Gothem lamps
March 16, 2016
IKEA Ireland is carrying out a voluntary recall of GOTHEM lamps due to the risk of electric shock.
All three models of GOTHEM lamps – two table lamps and one floor lamp – are affected:
GOTHEM floor lamp, 403.030.43
GOTHEM table lamp base, 35cm, 503.030.28
GOTHEM table lamp base, 45cm, 803.030.36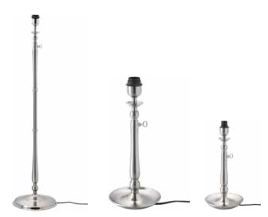 Note: The lamps pictured are not according to scale
In certain circumstances, damaged cables can lead to the metal body of the lamp becoming electrically live, creating a potential safety hazard.
The GOTHEM lamps have been sold since October 2015 and 528 units have been sold in Ireland.
What to do
IKEA urges customers to stop using the lamp immediately. The GOTHEM lamps can be returned to any IKEA store for a full refund. Proof of purchase (receipt) is not required. For more information, please contact IKEA on 01 5413302.
Return to Product Recalls
Haven't found what you're looking for?