IKEA recalls FÖRSTÅ coffee/tea maker
March 4, 2011
IKEA is carrying out a voluntary recall of the FÖRSTÅ coffee/tea maker
This is due to the risk of pressure from the metal holder on the glass pot causing it to break unexpectedly, posing a burn and laceration hazard. These products have been on sale since September 2010.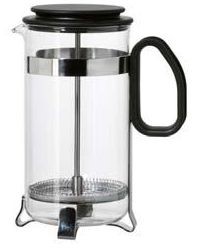 IKEA has received 20 reports of the glass pot breaking, including twelve reports of burn injures from spilt coffee/tea and one report of laceration injury.
The two affected products are:
FÖRSTÅ coffee/tea maker 0.4l glass/stainless steel Article number: 401-585-93
FÖRSTÅ coffee/tea maker 1 l glass/stainless steel Article number: 201-497-07
What to do:
If you have purchased either of these products, please stop using them immediately and return them to any IKEA store for a full refund. For more information, please contact the exchange and returns department in your local Ikea store, visit www.ikea.ie or call Ikea on Locall 1890 987 938
Return to Product Recalls
Haven't found what you're looking for?