IKEA recalls ANTILOP children's high chair belt
January 5, 2012
IKEA is recalling the ANTILOP children's high chair belt as it can open unexpectedly in use, creating a fall hazard.
Only ANTILOP high chairs from supplier #17389 and manufactured within the production dates 0607-0911 (YYMM) are affected. The supplier number and production date are moulded into the underside of the seat.
No other high chairs are affected.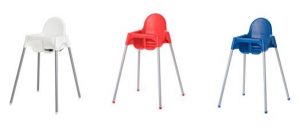 What to do:
If you have this product stop using it immediately and return the belt to the Exchange & Returns department or contact IKEA Customer Service on 1890 876 707 to receive a replacement belt free of charge.
Return to Product Recalls
Haven't found what you're looking for?