IKEA Gates Recall
May 13, 2015
IKEA is voluntarily recalling their PATRULL KLÄMMA and PATRULL SMIDIG pressure mounted safety gates. IKEA has discovered that the friction between the wall and the spring mechanism in the gate can fail to hold the gate in position so they have advised that they should not be used at the top of a staircase. The gates are still safe to use between rooms or at the bottom of a staircase.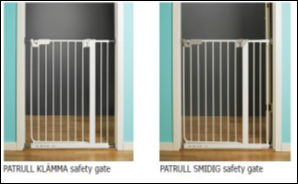 What to Do:
Customers who wish to return their PATRULL KLÄMMA or PATRULL SMIDIG safety gate are welcome to do so for a full refund at the Customer Returns Department in their nearest IKEA, or exchange for the PATRULL or PATRULL FAST safety gate which are suitable for the top of the stairs.  The gates have been on sale in IKEA Stores from August 1995 to February 2015.
For more information contact the Exchange and Returns Department in IKEA, Lo-Call 1890876707 or www.ikea.ie
Return to Product Recalls
Haven't found what you're looking for?