Homeline recalls Homesafe Universal USB Travel Adaptor
February 24, 2023
Homeline recalls Homesafe Universal USB Travel Adaptor.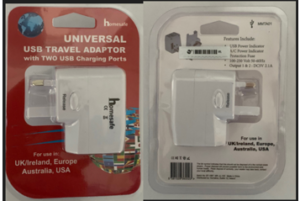 The affected product was manufactured from 2021 to 2022.
The product presents a risk of electric shock. The socket shutters can be opened without a plug being inserted making live parts accessible.
The brand is Homesafe. The type/number of model is MMTA01/JL153. The batch number is BT1887. The barcode is 5391529360023.
There are approximately 6,040 affected products in the Republic of Ireland which have been purchased from various retailers.
What to do:
Customers should stop using the product and return it to the place of purchase for a full refund.
For further information please contact Homeline on 01 4568221 or PR@homeline.ie.
Return to Product Recalls
Haven't found what you're looking for?