Home Innovations UK Ltd issues safety alert on Roller Blinds
September 27, 2011
These blinds pose a risk of strangulation as the cord on the blinds is longer than the permitted levels.
The product was sold in Heatons and Michael Guiney's stores in Ireland since 2008.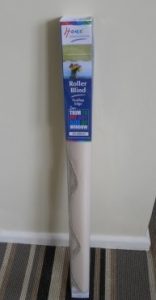 The product in question is a Scallop Edge Roller Blind available in cream, natural and white, in sizes 2ft, 3ft, 4ft, 5ft and 6ft. This is a roller blind with a scallop edge border on the bottom of the blind; the blind is operated by a beaded chain cord.
What to do:
Please return to the store where you purchased the blinds and you will receive a safety device that will need to be fixed to a wall or architrave at a height where the chain is taut.
Once the safety device is attached the product no longer poses a risk.
Advice on window blind safety
The National Consumer Agency urges parents, guardians and carers of young children and managers of public buildings, such as schools, libraries, crèches, playgroups and Montessoris to take all necessary measures to protect young children from the possibility of being injured or strangled by window-blind cords/chains/ball chains or similar.
In particular we advise the following:
Purchasing new blinds
Confirm with the supplier that the blind complies with the Irish standard IS EN 13120 – Internal Blinds – Performance Requirements Including safety
Check that safety devices are incorporated into the blind or that they are supplied separately
Check that installation instructions are provided
Check that warning notices are attached to the blind
Retain the instructions for further reference
Retrofit old blinds
You can retrofit your old blinds to make them safe in your home by following these steps:
Cut the cord to get rid of the loop and install tassels
Cords should end at least 1.6 metres above the floor so children cannot reach them
Replace cords/chains/ball chains or similar with blind wands
Where cords cannot be cut, a safety device should be used to pull the cords/chains/ball chains or similar tight and secure it to the floor or wall
General advice
Move beds, cots and other furniture away from window blinds with exposed cords/chains/ball chains or similar. Children can climb furniture to get at them
To avoid strangulation and entanglement, keep cords/chains/ball chains or similar out of reach of young children. Young children should not be left unattended
Do not tie cords together
Make sure cords do not twist together and create a loop
Safety devices such as hooks or cord tensioning wheels may be purchased from hardware stores or curtain shops and are relatively inexpensive. Please consult with a window blind manufacturer/installer to assist in making the correct decision as to which is the best solution for you when retrofitting old blinds
Allow the installer to fit the safety devices as it has come to our attention that some customers are refusing to do so
Be safe
The NCA wishes to warn consumers, however, that the new safety measures on their own cannot totally remove the risk of strangulation or injury to children.
Parents and guardians are therefore urged to take all necessary safety measures to enhance their children's safety.
Return to Product Recalls
Haven't found what you're looking for?