Green Elephant Trading Limited recalls 'Crazy Aaron's NF003 Neon Flash Mini Electric Thinking Putty'
August 31, 2020
Green Elephant Trading Ireland Limited is carrying out a voluntary recall of 'Crazy Aaron's NF003 Neon Flash Mini Electric Thinking Putty'.
The risk is "Long-term damage from contact with substances or from exposure to radiation Level: 1 Diarrhoea, vomiting, local symptoms". There were 3474 units sold in the Republic of Ireland and all batches sold are affected.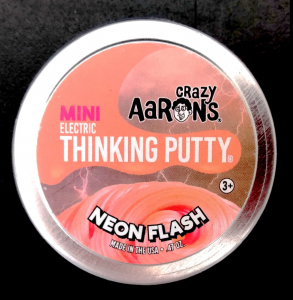 What to do:
If you believe that you may have purchased an affected product, discontinue use immediately and keep it out of the reach of children.
Green Elephant Trading Limited have sent out recall posters to all their customers' shops. You can contact Green Elephant Trading Limited at their email address: sales@greenelephanttrading.com or alternatively you may wish to contact the retailer from where you purchased the affected product. Please see list of distributors below:
Green Elephant Trading Limited distributed the product to the following retailers:
Art & Hobby in Dublin 24,

Cogs The Brain Shop in Dublin 2,

Eason Ballina,

Flemings Toymaster in Monaghan,

Hopkins Toymaster in Wicklow,

JKC Toymaster in Nenagh Tipperary,

Murphy's Toymaster in Dungarvan Waterford,

Pocket Money Shop in Swords,

Rocklands Retail (Toymaster Ballina),

Stakelum's Toymaster in Thurles Tipperary,

The Bubble Room in Skerries Dublin,

World of Wonder in Tralee Kerry.
Return to Product Recalls
Haven't found what you're looking for?