Gleann Products Supplies Ltd recalls wooden rocking horse
October 18, 2021
Gleann Products Supplies Ltd is carrying out a voluntary recall of the Kon na beigunach wooden rocking horse.
A safety issue has been identified with the rocking horse where due to missing movement limiters, the toy is unable to hold the user within the extreme of the bow. As a result a user may tip over and suffer injuries.
There are approximately 15 affected units in the Republic of Ireland.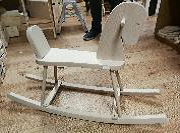 What to do:
Gleann Products Supplies Ltd is currently contacting affected customers through Facebook and email to notify of the recall.
If you believe that you may have purchased an affected product, discontinue use immediately, and contact Gleann Products Supplies Ltd through your purchasing channel, or via their Facebook page here.
Return to Product Recalls
Haven't found what you're looking for?