Flying Tiger Copenhagen recalls wooden car truck toy
March 22, 2021
Tiger Retail Ireland Limited is carrying out a voluntary recall of their 'Car Truck with Cars Wooden' product.
The safety issue identified is that the green tow hitch can detach and become a small part which may cause a choking hazard for children. The affected item number is 3019330.
505 units of this product have been sold in the Republic of Ireland between November 2019 and April 2020.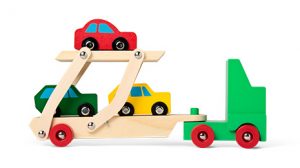 What to do:
If you believe that you may have purchased an affected product then you are advised to stop using it immediately. Customers can return the product to any Flying Tiger Copenhagen store, where a full refund will be provided.
Flying Tiger Copenhagen's customer case can also be contact using the web form available here.
Return to Product Recalls
Haven't found what you're looking for?