EDCO Eindhoven B.V. recalls Cat Laser Pointer Toy
March 31, 2023
EDCO Eindhoven B.V. is carrying out a recall of Cat Laser Pointer Toys.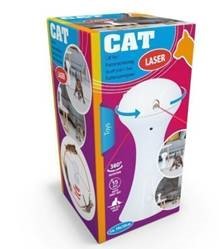 The affected product has been sold since December 2021.
The risk reported to the CCPC is that of damage to sight as the laser is too powerful and can cause damage to the eyes.
The brand EDCO Eindhoven B.V. The barcode is 8711252 12427 8. The type/number of model and batch number are unknown.
There are approximately 36 affected products in the Republic of Ireland. The product may have also been sold to consumers in the Republic of Ireland through the eBay platform.
What to do:
If you purchased one of these products, please discontinue use immediately and return the item to the point of purchase where the purchase amount will be reimbursed. For more information please visit www.edco.nl/en/safetyinformation or tel. 0031- 40 250 11 11.
If you purchased the product on eBay you may wish to contact the eBay seller to see if there are any remedies available to you. This can be done via your user account on eBay.
Return to Product Recalls
Haven't found what you're looking for?