Dunnes Stores recall 'Walk in Sleeper'
September 19, 2012
Dunnes Stores is carrying out a voluntary recall of the series of 'Walk in Sleepers' due to a potential safety issue which may cause the button closure to detach leading to a choking hazard.
The following four styles are affected.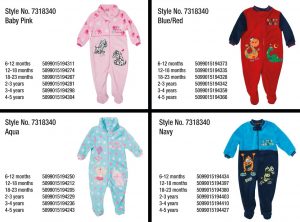 These products have been on sale in Dunnes Stores since 21st August 2012.
What to do:
If you have purchased any of the above listed items, stop using it immediately and return it to any Dunnes Stores outlet for a full refund.
Return to Product Recalls
Haven't found what you're looking for?