Dunnes Stores 'Comfort Relaxer Folding Chair' recall
June 20, 2013
Dunnes Stores are voluntarily recalling the 'Comfort relaxer folding chair' product because of a potential safety issue. In certain circumstances there is a possibility that the frame may fail and the chair may collapse.
This chair is sold in three styles:
Black  7746235 / 5099016248648
Red  7746235 / 5099016248655
Stone  7746235 / 5099016248662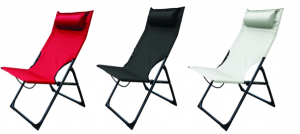 It has been on sale in Dunnes Stores since 26 March 2013.
5,048 of these products have been sold in Ireland.

What to do:
Consumers can return the chair to any Dunnes Stores outlet where they will receive a full refund.
Return to Product Recalls
Haven't found what you're looking for?