Debenhams 'Sleeping Beauty' electric blanket recall
July 23, 2013
Debenhams is voluntarily recalling the "Sleeping Beauty" electric blanket because of a potential safety issue.
The wires in the cable are prone to breaking if the cable is bent back and forth. This can cause the blanket to short out.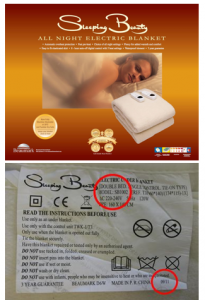 The recall applies only to two models with 9/11 and 8/12 marked on the label stitched to the blanket seam. The model number SB1001 or SB1002 appears on the top of the label and the production date 09/11 or 08/12 appears on the bottom right of the label. The two models are:
SB1001       SINGLE TIE-ON UNDER BLANKET
SB1002       DOUBLE TIE-ON UNDERBLANKET WITH A SINGLE CONTROL
672 Single Blankets and 640 Double Blankets have been sold in Ireland.
What to do:
If you have one of these blankets stop using it immediately and return it to any Debenhams outlet to receive a full refund.
Return to Product Recalls
Haven't found what you're looking for?