Costa Coffee recalls Costa Coffee Glass Heart Cup
February 10, 2023
Costa Coffee recalls Costa Coffee Glass Heart Cup.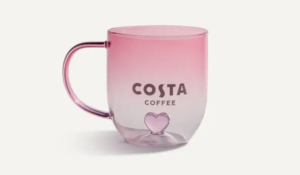 The product presents a choking risk as the small glass heart within the glass cup could detach and become a small part, which young children may place into their mouths and then choke.
The brand is Costa Coffee. The batch number, type/model number and barcode are unknown.
There are approximately 215 affected products in the Republic of Ireland.
What to do:
If you purchased one of these products, please discontinue use immediately, and return it to a Costa store where a full refund will be given. When returning your cup please also return any packaging and your receipt of purchase if they are still in your possession.
For further information on this recall please contact Costa Coffee at costa@mbccfoodsireland.com
Return to Product Recalls
Haven't found what you're looking for?