Clesse Industries recall Novacomet branded BP1803 LPG gas regulator
October 25, 2016
Clesse Industries, manufacturer of LP gas regulator brand Novacomet, has issued an immediate product recall of LPG regulator product family BP180.
Used with propane and butane LPG cylinders, the recall involves all directly cylinder mounted, wall mounted single cylinder and two cylinder manual changeover versions manufactured between June 2006 and September 2015.
If you are unsure how to identify your product, please see the images below to assist you in identifying your regulator type.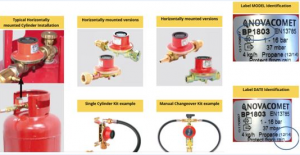 Clesse Industries will process and supply replacement BP1803 regulators free of charge, as well as contribute to the cost of the product exchange that falls within this recall.
For more information call Cless Industries Ireland recall hotline on +44 (0) 1183 706 730.
Return to Product Recalls
Haven't found what you're looking for?