Claire's Accessories UK Limited recalls Llama Jingle Bells soft toy
April 18, 2019
Claire's Accessories UK Limited are carrying out a voluntary recall of their Llama Jingle Bells soft toy which was on sale in stores between October 2018 and February 2019.
The safety concern is that there is a risk of burns as since the moving parts are blocked, heating measured on the surface of the batteries exceeds 45 °C.
124 units of this product have been sold in the Republic of Ireland.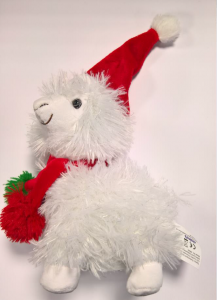 Llama Jingle Bells soft toy
 What to do
Llama Jingle Bells soft toy product number 28640 is affected by this recall campaign.
This information can be found on the product label. If you find that you have an affected product then you should stop using the product immediately.
Consumers are advised to bring the product to any Claire's Accessories store where a full refund will be provided.
Claire's Accessories customer service can be contacted on 1800818895 or email productrecall@claires.com.
Return to Product Recalls
Haven't found what you're looking for?