Build-A-Bear Workshop UK Limited recalls Build-A-Bear Workshop Skull Skateboard Accessory
September 15, 2023
Build-A-Bear Workshop UK Limited is carrying out a voluntary recall on Build-A-Bear Workshop Skull Skateboard Accessory.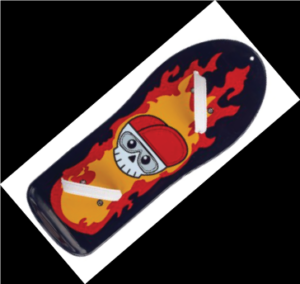 The risk associated with the product is possible choking as the wheel and axle rod can detach creating small parts.  These small parts may be placed in the mouth and swallowed, causing a young child to choke.
The brand is Build-A-Bear Workshop. The type/number of model is SKU:427169. The batch numbers are 04/22 DP002 and 10/22 DP004. The bar code is 000000427169.
Only the Skull Skateboards sold in stores between 21 August 2022 and 29 April 2023 and online between 7 August 2022 and 29 April 2023 with the above bar code is affected.
There are 371 affected products in the Republic of Ireland.
What to do:
If you purchased one of these products, please discontinue use immediately and keep it out of the reach of children. Customers can return the product to your local Build-A-Bear Workshop for a full refund. For any further information please phone Build-A-Bear's Guest Services line at 1800 882 974.
Return to Product Recalls
Haven't found what you're looking for?