Budget Greeting Cards recall "Sweet Horse Lovely Neddy"
September 29, 2011
Budget Greeting Cards Ltd. is recalling the 'The Sweet Horse Lovely Neddy' on safety grounds.
This is a plastic toy pony with 'beauty accessories' (hairdryer, shampoo & brush).
The product poses a chemical risk because it contains chemical risks that are prohibited in all toys and childcare articles.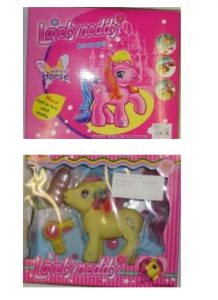 The product was sold in various retail outlet stores. There have been no reported incidents in Ireland.
What to do:
If you have bought this toy, please return it to the store where you purchased it from for full refund.
For further information on this recall you can call Budget Greeting Cards on (01) 6120834.
Return to Product Recalls
Haven't found what you're looking for?