B&Q recalls Mountfield & Mac Allister Petrol Lawnmowers
July 6, 2016
B&Q is carrying out a voluntary recall of the following product:
Mountfield & Mac Allister petrol lawnmowers offered for sale from February 2016.
| | |
| --- | --- |
| Model | Barcode |
| Mac Allister MPRM 42SP | 5397007189766 |
| Mac Allister MPRM 46SP | 5397007189773 |
| Mountfield HP454 | 8008984585904 |
| Mountfield SP454 | 8008984585911 |
| Mountfield HP414 | 8008984604766 |
| Mountfield SP414 | 8008984604773 |
| Mountfield HP45 | 8008984782624 |
| Mountfield HP45H | 8008984782631 |
B&Q has identified an issue with the free 100ml bottle of fuel stabiliser that may have been included in the carton of the above products.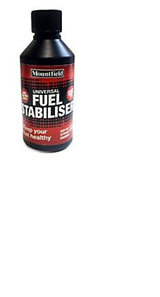 The bottle does not have a child-resistant safety cap or tactile warning for the visually impaired and the contents could potentially be hazardous to health if consumed or ingested accidentally. The lawnmower itself and also the fuel stabiliser are both safe to use as intended.
THIS NOTICE ONLY RELATES TO THE FACT THE BOTTLE HAS A CAP WHICH IS NOT CHILD-RESISTANT AND LACKS THE TACTILE WARNING.
What to do
If you have one of these bottles please secure it out of the reach of children, in a safe place until ready to use.
Please note that other lawnmower products sold by B&Q are unaffected. Alternatively, if you are concerned, then please return the bottle to any B&Q stores and they will dispose of it safely for you. Should you have further queries please contact the B&Q helpline:
1800 946 327*
*(Monday to Friday 8.30am to 8.00pm, Saturday 9.00am to 5.00pm and Sunday 10.00am to 4.00pm)
Return to Product Recalls
Haven't found what you're looking for?