Bosch, Neff & Siemens dishwashers
May 10, 2013
BSH Home Appliances Limited have announced a voluntary free in-home repair programme for Bosch, Neff and Siemens branded dishwashers manufactured between May 1999 and the beginning of 2005. BSH has identified that an electrical component on a limited number of Bosch, Neff and Siemens branded dishwashers may overheat and in rare cases cause a potential fire hazard. A total of 28,975 of these branded dishwashers have been sold in Ireland.
The affected dishwashers are certain models in the batch number range from FD 7901 to FD 8504.  The appliance details can be found either engraved on the top or on a sticker on the left hand side of the inner part of the door (see picture below). Dishwashers which are outside this batch number range are not affected.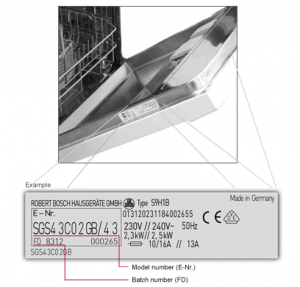 What to do:
If you own an affected product, or if you are unsure if your product is affected, call the BSH Home Appliances Limited free phone number 1800 322 222  between 8am to 8pm Monday to Friday and 8am to 5pm  Sat –Sun  or visit the website www.repairaction.ie  to register your details for a free of charge repair.
Return to Product Recalls
Haven't found what you're looking for?