Beko frost-free fridge freezer safety alert
May 13, 2011
Update 6 January 2012
Since the product recall below was issued, a further model CS460FFW, has been included.
13 May 2011
BEKO has issued a safety alert on a certain production range of BEKO frost-free fridge freezers. There is a risk that the defrost timer may fail and overheat.
What to do:
Check the model number and serial number of your fridge freezer. The serial number is on the rating plate located inside the fridge compartment and is 10 or 12 digits long. The first two digits of the serial number give the year of production.
Contact BEKO if your model's serial number begins with any of the following:
If you own an affected product, or if you are unsure if your product is affected, call BEKO's free phone number 1800 25 29 25 between 9am and 5pm Monday to Friday.
BEKO will arrange to visit your home and make the modification to the product at no charge to you.
Further details can be found on www.beko.ie, where you can also check if your product is affected by entering the model and serial number.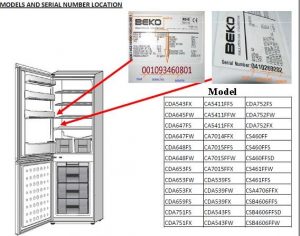 Return to Product Recalls
Haven't found what you're looking for?