B & Q Safety Notice for 'TELAMON' LED Floodlights/Security lights
July 8, 2019
B & Q has identified a safety issue for the below listed TELAMON external light range. There may be a risk of water ingress in all of the below-listed products.
It is possible that the product can be incorrectly installed by using the wrong type of cable (flat, twin or earth type cable). This may cause the product to be affected by water ingress, potentially causing a risk of electrocution.
B & Q wish to make customers aware that only, round 3 core cable with a minimum 6-millimeter diameter, should be used. Approximately 21,227 units of these products have been sold in the Republic of Ireland.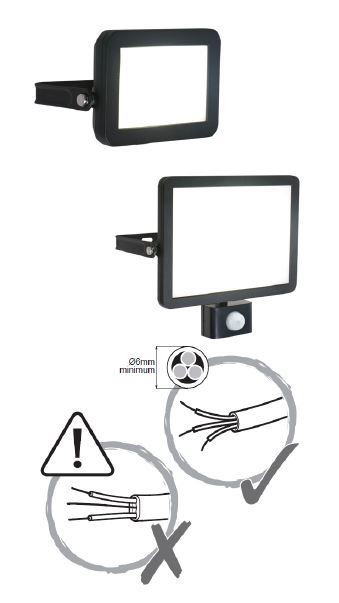 | | |
| --- | --- |
| TELAMON LIGHTS | DESCRIPTION |
| TELAMON 11.5W LED FLOODLIGHT | 5052931667222 |
| TELAMON 12.5W LED SECURITY LIGHT | 5052931667253 |
| TELAMON 20W LED SECURITY LIGHT | 5052931667246 |
| TELAMON 21.5W LED FLOODLIGHT | 5052931667215 |
| TELAMON 32.5W LED FLOODLIGHT | 5052931667208 |
| TELAMON 33.5W LED SECURITY LIGHT | 5052931667239 |
What to do:
Please check with your installer that only the correct cable has been fitted. Prior to inspection or if water is present in the light, switch off the power supply. If in doubt about your installation, please consult a qualified electrician.
For more information please call the B & Q helpline on ROI freephone: 1800 946 327*
*Monday to Friday 8.30 am – 8 pm, Saturday 9 am – 5 pm and Sunday 10 am – 4 pm
The TELAMON Safety Data Sheets/Installation Instructions can be found at the following link (by entering the products EAN/Barcode) – https://www.diy.com/customer-support/product-information/health-safety
Return to Product Recalls
Haven't found what you're looking for?