Argos recalls Zinc Smart RX Hoverboard
August 6, 2019
If the Zinc Smart RX hoverboard is used in wet conditions, it can lead to the battery pack becoming compromised. This can lead to the performance of the product being affected and the battery potentially catching fire whilst on charge.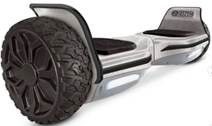 What to do
If you purchased a Zinc Smart RX hoverboard from Argos please STOP USING IT IMMEDIATELY, DO NOT CHARGE IT and return your hoverboard to an Argos store for a full refund. You do not need a receipt.
If you have any questions please contact Argos on ROI Freephone – 1800 946744.
Return to Product Recalls
Haven't found what you're looking for?