Argos recalls Simple Value Food Processor
July 5, 2016
Argos Ireland is carrying out a voluntary recall of their Simple Value Food Processor. It is white, sold since July 2011 (Catalogue No. 423/5345) and previously branded "Argos Value range" and sold under the same catalogue number.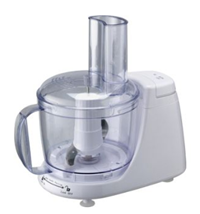 A potential safety concern with the Simple Value Food Processor has been identified. In some instances it is possible to inadvertently disable the Safety Interlock Mechanism on the lid. It is possible for the Safety Interlock to break apart from the lid. In some instances the broken part can become trapped which means that it bypasses the Safety Interlock Mechanism and allows the food processor to be operated with the lid removed.
There are 7,753 affected units on the Irish market.
 What to do
 It is important for customers to stop using the product IMMEDIATELY and return it to their nearest store for a refund.
If you still have the box, Argos receipt or ordering details the Catalogue Number (423/5345) will be shown. If you do not have the original packaging you can identify the affected products by looking under the base of the product for the product rating plate label. Affected products will be marked with the Model No. XB9018 on the product rating plate label.
Should you wish to contact Argos please use the following customer services number: 1800535091
Return to Product Recalls
Haven't found what you're looking for?