Argos recalls Pipsie the Interactive Horse
July 6, 2016
Argos has identified a potential safety issue with the Apples which come with Chad Valley Pipsie the Interactive Horse (Catalogue Number 404/6510).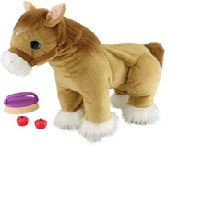 A fault has been identified where the apples could break apart and release the internal magnet. This is a choking hazard and if ingested could lead to internal injuries.  Please note that there have been no reported customer incidents.  This recall only affects the apples and not Pipsie the horse or brush.
There have been 777 units placed on the Irish market.
What to do
If you have a Pipsie the Interactive Horse please remove the Apples immediately and dispose of them with normal household waste. As a replacement to the apples, Argos are offering customers a pair of cupcakes which will work in the same way. To register for your replacement cupcakes please visit: www.clickspares.co.uk/pipsie/. If you need to contact Argos Ireland please ring 1800 535091.
Return to Product Recalls
Haven't found what you're looking for?