Argos recall Ohio High Sleeper – all colours/ sizes/ mattress options
October 12, 2018
Argos have identified a safety issue with the ladder supplied with the Ohio High Sleeper and are asking customers to stop using the ladder immediately and avoid using the bed without the ladder. In a small number of cases customers reported the following:
Rungs/steps on the ladder rotating even after retightening

or

Rungs/steps on the ladder becoming detached
The ladder has the potential to cause injury if the rungs/steps rotate or detach.
The Argos Home Ohio High Sleeper was sold in white/grey/beech, in two different sizes (standard & shorty) and in a range of mattress options.

All Ohio high sleepers were sold with the ladder so this Safety Recall applies to ALL of the colours/options sold.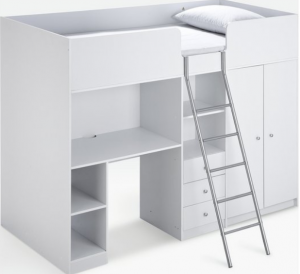 What to do:
STOP USING THE LADDER IMMEDIATELY, and avoid using the bed without the ladder. Please remove the ladder from the reach of children and dispose of it safely.
Argos are offering a replacement ladder to all customers who purchased the Ohio High Sleeper. To order a replacement ladder please visit www.clickspares.co.uk/ohio or call the dedicated helpline (number below)
 If you have any questions or concerns, please contact Argos on our dedicated helpline on:
UK FREEPHONE– 0800 0113462
ROI FREEPHONE– 1800946744
The Argos dedicated helpline is open between 8am-8pm Monday to Sunday. Argos thank you for your cooperation and apologise for any inconvenience.
Return to Product Recalls
Haven't found what you're looking for?