Argos Distributors (Ireland) Limited t/a Argos recalls Tammy Sofas/Footstools in Charcoal, Mink and Teal
February 22, 2023
Argos Distributors (Ireland) Limited recalls Tammy Sofas/Footstools in Charcoal, Mink and Teal: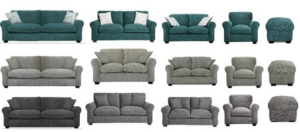 The product failed to meet the required fire safety standards and if exposed to a naked flame, the cover fabric could catch fire. This may lead to fire and burns. Other upholstery materials used to make this product (such as foam and fibre) are unaffected by this issue and comply with the fire safety standards.
The brand is Tammy. Please see the Argos Product Recall where catalogue numbers of the affected products are given.
The affected product was sold in Argos stores from 21 June 2022.
There are approximately 32 affected products in the Republic of Ireland.
What to do:
If consumers purchased this product, please contact the Customer Service Team via phone on 1 800 535 091 or alternatively via email on order.enquiries@argos.ie to arrange delivery of an alternative model or refund. In both cases you must still be in possession of your Tammy product(s) and these must be made available to collect.
In the meantime, the Sofa/ Footstool can still be used, provided consumers ensure it doesn't come into contact with fire sources for example, matches etc.
Return to Product Recalls
Haven't found what you're looking for?