Apple Distributions International Voluntary recall the Apple Three –Prong AC Wall Plug Adapter
April 26, 2019
Apple Operations International Limited is carrying out a voluntary recall of the Apple three- prong AC wall plug adapter designed primarily for use in the U.K. Due to certain repeated impacts to the wall plug adapters, they may be susceptible to breakage which exposes internal electrical components. As a result there is a potential risk of a user sustaining an electric shock if an individual comes into contact with those exposed components.  
The affected three- prong AC wall plug adaptors are white, with no letters in the inside slot where it attaches to the Apple power adapter. They can be easily distinguished from Apples new wall plug adapters, which are unaffected by this issue, as these are white with grey on the inside portion that attaches to the power adapter.
The affected AC wall plug adapters were manufactured between 2003 and 2010.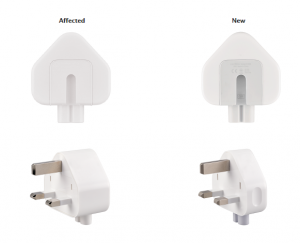 What to do:
If you believe you have this product then you should stop using it immediately and contact your local Apple Store where consumers will be offered a replacement of the affected product, free of charge. For further information please visit https://www.apple.com/ie/support/three-prong-ac-wall-plug-adapter/.
Haven't found what you're looking for?