Apple Distribution International, voluntarily recalls certain 15-inch Apple MacBook Pro units
June 21, 2019
Apple Operations International Limited is carrying out a voluntary recall on a number of batteries contained within certain '15-inch MacBook Pro Units' (Retina, 15-inch, Mid 2015). The safety concern identified is that the batteries in effected products may overheat and pose a potential fire risk.
Approximately 2933 units have been activated in the Republic of Ireland.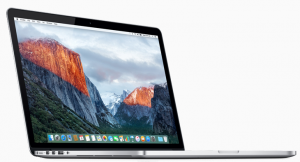 What to do:
The effected 15-inch MacBook Pro Units were primarily sold between September 2015 and February 2017, and can be identified by the product serial number.
To confirm if you have purchased an effected product, consumers are advised to use the serial number lookup information which is available on Apple's website and at the following link: https://www.apple.com/ie/newsroom/2019/06/important-notice-for-batteries-in-certain-macbook-pro-units/.
For further information please visit Apples website for support on the following link: https://getsupport.apple.com/?caller=erep&PFC=PFC1002&category_id=SC0999&symptom_id=99916 .
Return to Product Recalls
Haven't found what you're looking for?