Amazon recall power adaptors
March 1, 2016
Amazon are recalling power adaptors included with the UK Fire 7" and UK Fire Kids Edition 7" tablets due to a safety concern. In some circumstances when the adapter is pulled from the wall socket the adaptor assembly may detach and create a risk of electric shock.
The affected adaptors were sold in Ireland since September 2015 and all bear the model number FABK7B.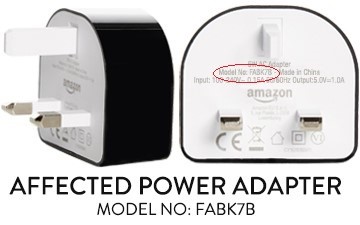 What to do:
Please stop using this adaptor. You may still charge your tablet by using the included USB cable connected to a computer or alternatively another compatible adaptor.
Amazon are offering two options for Consumers to replace their adapters. Consumers may choose to accept a free replacement power adapter or alternatively may request a  £12 credit to be applied to their account.
Further information on the recall and details of the exchange process may be accessed directly through the following link:
http://www.amazon.co.uk/b?node=9730244031
Return to Product Recalls
Haven't found what you're looking for?