Aldi recalls Gardenline Greenhouse and Conservatory Heater
December 13, 2011
Aldi is carrying out a voluntary recall of the Gardenline Greenhouse and Conservatory Heater, Model No. 43016 with two heat settings (1000 Watt and 2000 Watt) sold in green and grey.
This product is not suitable as a greenhouse heater due to inadequate moisture protection resulting in an electrical safety risk to consumers.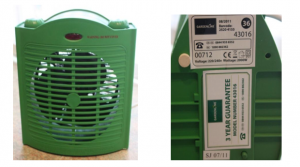 What to do:
If you think you have this product stop using it immediately and return to your nearest Aldi store for a full refund. You can also contact Aldi's Customer Service Helpline on 1890 882 362 from 8.30am to 5.00pm Monday to Friday. Note that the rates charged for the use of 1890 (LoCall) numbers may vary among different service providers.
Return to Product Recalls
Haven't found what you're looking for?