Aldi recalls Delta Essentials steam cleaner
September 8, 2011
Aldi is recalling the Delta Essentials Hand Held Steam Cleaner.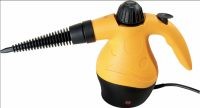 Product Code: 46431
Barcode: 25231052
Model: GT-DR-01
Date code: 08/11
A fault has been found in the extension hose component of the product, allowing steam to escape, which may result in burning or scalding.
Approximately 3,110 have been sold in Ireland. Only products with the date code 08/2011 are affected.
What to do:
Stop using the steam cleaner immediately and return the product to your nearest Aldi store for a full refund. No other Delta branded products are affected.
Return to Product Recalls
Haven't found what you're looking for?