240V Carbon Monoxide Alarms Update
May 1, 2017
Solas Geal Distribution is issuing a renewed appeal to their customers who bought Eclipse Carbon monoxide alarms manufactured in  April 2011 to STOP using them immediately and to return them to the place of purchase.Please check the label at the back of the product which will show the date which will be in April 2011. Please see image below.
In September 2012, SGD issued a recall of these carbon monoxide alarms due to the failure of the alarms to detect certain levels of carbon monoxide gas.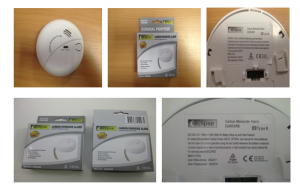 What to do
Consumers should check to see if they have one of the affected Eclipse CO alarms.  The Eclipse model of alarm is described as a 240V Carbon Monoxide detector with a 9v battery backup with Bar Code: 5391516452984
The company has new stock that has passed a British Standards Institute independent safety test Clause 5.3.1 & 5.3.4 of BS EN 50291-1 2010 (Electrical Apparatus for the detection of carbon monoxide in domestic premises).  Consumers can return their affected Eclipse alarm to the place of purchase and receive one of these replacement alarms free of charge.
Alternatively, consumers can contact SGD directly on +353 1 8357447. SGD Apologise for any inconvenience caused.
This recall does not affect any other eclipse products. 
Return to Product Recalls
Haven't found what you're looking for?