In Focus: Hoverboards & the work of the Product Safety Unit
February 18, 2016
Unsafe consumer products can cause accidents, injuries and in extreme cases, death. Protecting consumers in Ireland from unsafe non-food consumer products is the primary aim of the Product Safety Unit (PSU), part of the Criminal Enforcement Division, in the CCPC.
Hoverboards – a recent case
A huge variety of products come to our attention each year, but one product which featured prominently in recent times is the 'Hoverboard' or 'Balance Board'. The BBC programme 'Watchdog' did a feature on Hoverboards in October 2015 and it expressed serious concerns as to their safety, specifically regarding chargers and battery packs going on fire. Prior to the programme, Hoverboards were relatively unknown but they unexpectedly appeared in vast numbers on the Irish market and many other markets worldwide from November 2015 onwards.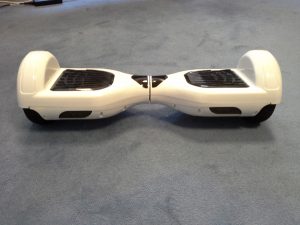 As this was a relatively new product there was little or no information available to market surveillance authorities with regard to the technical or safety aspects of these boards. The first large consignment of Hoverboards to reach Ireland was flagged by Customs in early November and contained over 1,400 boards. Samples of these boards were taken by PSU for technical assessment and supporting technical documentation was requested from the importer.
Following examination, numerous inconsistencies were detected in the documents provided and some important documents were missing. There were also major concerns regarding the plug, adapter and the battery pack and this gave us sufficient grounds to prohibit these products from entering the market place. As a result, the importer was advised to return the consignment to its country of origin.
In the following weeks, leading up to Christmas, numerous other consignments were examined. All of these failed to meet the relevant safety requirements and so were prohibited from being placed on the market. The PSU also carried out a market surveillance exercise which targeted numerous outlets selling these boards which resulted in the CCPC issuing a number of Directions prohibiting the sale of these items. Over 30 cases have been examined to-date and further cases are ongoing. No Hoverboard has been found to be compliant so far.
The work of the Product Safety Unit
Our legislative remit covers five primary EU Directives, including:
General Product Safety Directive
Toy Safety Directive
 Personal Protective Equipment Directive
Appliances Burning Gaseous Fuels Directive
Low Voltage Directive.
Contacts from consumers relating to unsafe products provide us with valuable market insights and help inform our priorities and activities. Information is filtered through the CCPC helpline to the PSU for investigation and follow-up using a risk-based approach. The PSU also conducts market surveillance activities and liaises with other market surveillance bodies, including the Customs authorities, to prevent unsafe products coming onto the Irish market.
Last year the PSU prevented 28,473 goods from entering the Irish market place. 2,273 of these were Hoverboards. Other products included sunglasses, children's surfboards, toys, lasers, electrical items and lighters.
The PSU is the Irish contact point for the Rapid Alert System (RAPEX) which is a Europe-wide rapid alert system for unsafe products. RAPEX circulates information on product recalls that have taken place in the European Union. As part of the RAPEX network, the PSU is required to examine any information received about a product recall anywhere in the EU and assess whether the product is relevant to the Irish market. The PSU can then take appropriate action.
In 2015 the PSU published 74 product recalls, with motor vehicles featuring highly. This figure was an increase on previous years.
Likewise, importers and traders based in Ireland are obliged to inform the PSU about dangerous consumer products they intend to recall from the EU market and this information is relayed to the European Commission. The PSU is also an active participant in a number of product safety related EU and domestic forums, ensuring that Ireland is at the forefront of developments in product safety across the EU.
Haven't found what you're looking for?