Bid-rigging: What you need to know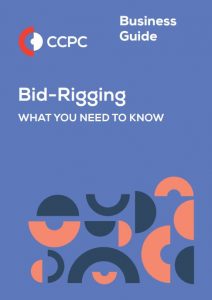 Download our:
Artificially high business costs, created by anti-competitive conduct, may make Ireland less attractive for foreign investment and as a small open economy, Ireland is dependent on foreign investment as a major source of employment and a driver of economic growth.
Bid-rigging is a serious form of anti-competitive behaviour. It happens when a number of suppliers come together and agree not to bid against one-another for a tender or contract. In these cases, the winning tender price may be higher than the price that would be reached through competitive tendering. An open competition means that firms reveal the lowest price at which they are willing to do the job. Bid-rigging also reduces the range of goods and services that consumers can choose from.
It is important that the full benefits of the competitive process are realised in order to ensure value for money and the highest quality of public services. Procurers influence the nature of competition in the market for their project, be it national, regional or local, by the actions they take – from the preparation of the initial business case through to providing feedback to suppliers on their delivery performance.
This booklet details some of the common signs of collusive tendering and provides information on steps that can be taken to mitigate them.
Return to Guidelines for Business
Haven't found what you're looking for?