Know how to spot an unsafe toy
June 8, 2022
If you're buying a toy, you of course want it to be safe. In Ireland we have strong laws and standards to protect children from unsafe toys. With Child Safety Week taking place this week, we have put together some advice to help you choose safe toys.
What to look out for when buying toys
1.Toys sold in the EU must meet safety standards
All toys sold within the EU must meet certain product safety standards.
For example, manufacturers have to ensure that:
• toys are made from non-toxic materials that won't burn easily
• any part of a toy that could potentially come loose should be too large for a child to swallow
• electrical toys are properly insulated and protected from live wires being exposed
2. Toys sold in the EU must have a CE mark
The CE mark is a manufacturer's declaration that the product meets the safety standards required in the EU. It should appear on the product, in the instruction manual or on the packaging and must be easy to read. Always look for the CE mark when shopping for toys and if you can't see it, don't buy it.
Some manufacturers might forge the symbol on their packaging. The CE mark is very distinctive – make sure that the CE mark is real. If you come across a toy or product that seems unsafe or looks like it has a fake CE mark, don't buy it and contact us.
The CE mark looks like this: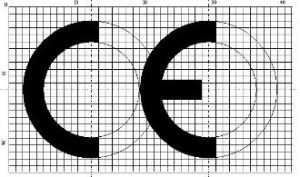 3. Check for detachable parts smaller than a €2 coin
One of the biggest dangers for children is small or detachable parts of toys. These can lodge in their ears, nose or throat, and cause an injury, or be a choking hazard to small children. Look at a €2 coin to help you. Any parts smaller than a €2 coin could be a potential choking hazard for children aged 0-3 years.
4. Keep button batteries away from your child
Check for batteries. If a toy uses batteries, make sure the child cannot get to them. Avoid mixing old and new, or different strength batteries. Also, keep small watch or 'button' batteries away from small children as these can be dangerous if swallowed.
5. Check for sharp edges, long cords or cables
Also check for fold-away parts or small holes that could trap children's fingers.
You can visit our child safety section for more information on potentially dangerous items for children, such as window blind cords, clothes and amber teething jewellery.
Product recalls
We regularly issue product recall warnings and product safety notices on toys, and quite often these are toys bought online.
You can stay up to date with the latest product safety information with our product recalls.
Return to News
Haven't found what you're looking for?