How to be Good with Money is back!
January 9, 2020
We are delighted to be sponsoring How to be Good with Money again, a personal finance series on RTÉ One, starting tonight at 8:30pm.
Each week on the programme, financial planner Eoin McGee will help a household to manage their money better and achieve their financial goals. The series will follow eight real-life families and individuals dealing with different financial challenges, whether it's tackling credit card debt or getting mortgage ready – empowering them to take control of their money.
In episode one of How to Be Good with Money we meet Mark Walsh from Waterford.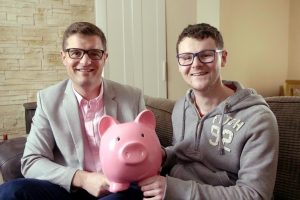 Mark is a 24-year-old home owner, working as a chef but he just can't hang onto money. Mark wants help to stop spending, start saving, and to eventually get the money together for home improvements. Tune in to watch Eoin help Mark to get a handle on his finances and give him a plan to help him work towards his goals.
If like Mark, you'd like to get a better handle on managing your money you can use our budget planner to get started and find more information in our budgeting section. Mark also discusses his car finance struggles in the show. You can learn more about ways of managing car finance payments in our making car repayments content.
Return to News
Haven't found what you're looking for?