Five ways to play safely this Halloween
October 16, 2019
#Tip 1 Watch out for the CE mark
If you're on the hunt for Halloween costumes and accessories, check that they carry the CE mark. Halloween costumes are classed as toys and they must carry the CE mark which should be attached to a label on the costume or its packaging. Toys sold in the EU must comply with specific safety regulations and related standards. Having the CE mark on the toy indicates that it meets the required safety regulations giving you peace of mind.
The CE mark looks like this: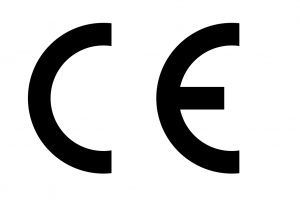 #Tip 2: Know what to look out for with Halloween novelty face paint
If you're buying face paints, buy from a reputable source where the product can be traced to a supplier. Always check the packaging has a clear list of the ingredients and instructions in English. The CE mark and the manufacturer and importer contact details should be included on the packaging. Check if there are any warnings saying it's not suitable to use on children.
 #Tip 3: Not all Halloween props are safe for kids
If you are buying props for your child's costume, these may not be classified as toys or meet the safety requirements or standards for toys. Make sure that props for example swords, devil forks and other costume accessories, are made of soft flexible materials. Novelty Halloween lights, similar to Christmas lights, are very popular. All electrical products sold in the EU must meet safety regulations, have a visible CE mark and have full contact details of the manufacturer and importer.
#Tip 4: Be careful with candles in your home at Halloween
There is always a risk of costumes catching fire at Halloween, particularly if there are young children around lit candles. It is safer to use battery-operated candles instead of real ones. Make sure all costumes, masks and wigs meet the flammability standard for toys by only buying items with the CE mark. If you want to create a costume for you or your child, make sure that you don't use any potentially dangerous or flammable materials such as plastics, glues, aerosols or cotton wool.
#Tip 5 Explain the dangers of fireworks to kids and teens
Tell children and teenagers about the dangers of illegal fireworks, sparklers and bonfires. Fireworks can cause serious injuries such as eye damage, finger loss, third-degree burns and more. Things can go wrong. Fireworks can go off unexpectedly or land where you didn't intend – like on a neighbour's house or near a group of people. Property damage from fires can cost a lot of money to fix too.
Stay safe and have a spooky Halloween
Return to News
Haven't found what you're looking for?