Booking a holiday? What you should know about travel insurance
March 20, 2019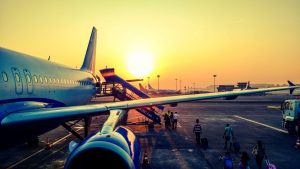 With the winter lingering well into spring, many of you might be thinking about getting that long awaited summer holiday booked. But what about travel insurance? Here are some things you should know when it comes to travel insurance.
Why should I buy travel insurance?
Travel insurance can protect you if the following things happen:
You need to cancel or return home early from a trip for reasons beyond your control.
Your departure was cancelled or delayed or you missed transport for reasons beyond your control.
You have a medical or other emergency.
Some of your belongings were lost, stolen or damaged, this can include luggage, passports and money.
Do I need it if I already have health insurance?
You should seriously consider taking out travel insurance if you are going abroad. If you have private health insurance, you may already be covered for illness and injury overseas. However, travel insurance covers you for other things such as delayed or cancelled flights, lost luggage, and lost or stolen money or valuables. If you are taking out travel insurance, it's important to take it out as soon as you book your trip – rather than waiting until your travel date – just in case something goes wrong before you go.
What do I need to know before buying travel insurance?
Make sure that the cover you buy is right for your needs. Think about:
How often do you expect to travel this year? Do you expect to travel within Europe only? It may be worth your while buying an annual policy instead of a single-trip policy if you have a few trips planned. Often insurance companies offer a Europe only policy or a more expensive world-wide policy.
Sometimes a travel agent may offer to sell you travel insurance when you are booking your holiday. Even if you want to buy travel insurance you do not have to buy it from your travel agent, so don't feel rushed into a buying it through them. You may be able to find cheaper insurance or better cover by arranging it yourself.
Shop around before you buy a policy and don't be influenced by the cost alone. Remember to compare the level of cover offered under different policies and check the

excess

that you will have to pay if you make a claim.
What type of activities will you do when you're away? Some sports are classified as dangerous such as skiing or scuba diving and you will need to buy specific cover for these.
Some travel insurance companies offer a discount if you buy your policy online so it is worth doing some research before you buy.
Check if you have cover on another insurance policy
Some credit card providers include travel insurance as an extra benefit, check if you have this benefit and what it includes before buying a travel insurance policy.
Depending on the level of cover on your home insurance, it may provide some cover for lost, stolen or damaged belongings. If you do have this cover, remember to check the excess and keep in mind that if you make a claim on your home insurance, your premium may subsequently rise.
You may be covered for medical treatment when abroad on your private health insurance policy. Cover for hospital or doctor's bills may be included, so you check your policy. It is important to check what is covered before you receive treatment abroad. Your private health insurance company may offer discounted travel insurance that will cover you for non-medical losses.
If you are travelling to another EU or EEA country the European Health Insurance Card or EHIC allows you to access health care services in that country. Go to the HSE's website for more information
If you already have cover under a different policy, remember to check the benefits, exclusions and the excess before you choose not to buy travel insurance.
And most importantly enjoy your trip!
Return to News
Haven't found what you're looking for?