The five articles every consumer should read
September 12, 2018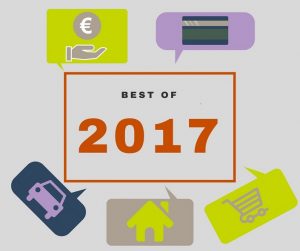 Having recently published our 2017 Annual Report we decided to take a look back to see what information our 1,745,724 website visitors wanted to find out about. From complex car finance options and switching mortgages, to buying online and using your credit card, we've pulled together our top tips and advice on the issues that matter most to you.
Disputed card transactions
Have you paid for something that you didn't receive? Maybe you did not authorise a transaction that went through on your card? Did you know that your card provider may be able to help? Most card providers offer a chargeback facility, meaning they may be able to reverse a transaction on your behalf. Find out more about a chargeback and how it works here.
Entering a PCP Agreement
If you are buying a new or second-hand car from a dealer, they may offer to arrange the finance for you in the form of a Personal Contract Plan (PCP). These agreements can be a quick and easy finance option, but did you know that the contract can also include commitments from you on things like annual mileage? Make sure you are clear on the details of your PCP agreement here.
Buying Online
With more and more Irish consumers opting to go online rather than in-store it's important to brush up on your rights when making an online purchase. Whether you are signing up to a streaming service or purchasing goods, find out here what your rights are when you buy online.
Taking out a loan
Thinking of taking out a loan? Our loan comparison tool is updated daily. It's 100% impartial and can help you find the best loan to suit your needs. You can get more information on applying for a loan and the questions you should ask your lender here
Switching your mortgage
Getting a mortgage is one of the biggest financial commitments you will make in your life. But like any financial product you buy, a mortgage should be reviewed to make sure you are getting the best value. Find out if you could make big savings by switching mortgages here.
For regular updates and tips on your rights, how to complain, managing your money and unsafe products follow us on Facebook, Twitter and Instagram. You can also sign-up to our newsletter here for updates direct to your inbox.
Return to News
Haven't found what you're looking for?